I am all about the sparkle, year round! This time of year it is just more socially acceptable to wear sequins, glitter and shine a little brighter.
I have broken down my favorite sparkling gifts that are great stocking stuffers, coworker gifts or a treat for yourself this Christmas! All these items are under $20.00!! I also have taken this time to not just snag, cute, but obvious items from Target. These are all brands I love (including Target) that I support and personally love to order from. I hope you love the way these Christmas gifts sparkle and shine!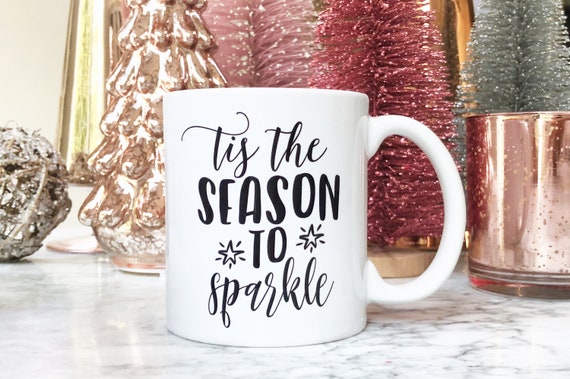 Love supporting other boss babes on their journey, this adorable mug is only $18.00, click on the photo to make this yours!
Nothing like a frosty statement this Christmas season! Love these drop crystal earrings with a great velvet dress or solid sweater, so chic and effortlessly dresses up a simple look!  Also since they are from Target, the greatest place on earth, they are just $14.99
This girl is amazing! I am happy to call Affton, the creator and owner of Broken top candles, a friend. Her hustle is truly inspiring and not to mention her candles are AMAZING! These 100% soy candles will fill your home with all the Christmas vibes you could need. This beauty is only $14.00!
 Is this too much sparkle? Said no one ever! A tree, like many other things, can never have too much sparkle! This festive dishtowel says it all! $10.00 and free shipping? Sold!
As many know, I love sending things in the mail. It's a joy of mine to take the extra moment to send someone something that isn't instant. These adorable pink Champagne cards sum it all up. Perfect for everything occasion, because all moments can be celebrated with champagne! These cuties are also from one of my favorite stationary providers, Graphique, and will only cost you $10.99
swooning over this little guy! I have always hated using my phone as a mirror, maybe just because I always think people think I am taking a selfie when I'm using it. This mirror is so perfect to avoid that! $11.72 to have that old Hollywood moment once a day. Staring at your lovely face in your own personal mirror.
When giving cookies as a gift, I like to make sure they are a little more than just Betty Crocker cookie mix. That's when I turn to William Sonoma for some luxury cookie mix. These come in a variety of flavors from the basics of Chocolate chip to Rocky road! Because let's be honest, everyone loves a good cookie and only $9.99!
Every girl has experienced the panic of losing a Chapstick. When there is supposed to be one in your purse and it isn't there, the panic begins, then the anger when you have come to terms that it is simply gone. That is why every year, I ask for chapstick, the more I have ready to go, the less likely I am ever going to have that frustration of not having it. Also, I hate paying for simple things that in my head should just be there, like chapstick lotion and hand sanitizer. So having someone gift these to you is not only practical but very handy. So thank you in advance for the 8.99 Chapstick.
Small wood home is the great rustic chic style that I am all about! They specialize in the large box and scroll signs, multiple of which I have in my home. This being a $20 and under gift guide, I was still able to give this as a gift last year to my neighbors in an "at home" themed basket. This refreshing line spray is a great alternative to Lysol spray and much prettier if you wanted to sit it out on display in the laundry room. These feel good smells will cost you $15.00 and be on their way to you from TX!
My final pick is the most extra of them all, a glitter eyeshadow palette tells the world, " I am bold and beautiful and wasn't afraid of getting glitter all over my face applying this!" I'll be honest like I have said before, beauty is not where I gamble. I don't dye my hair, I was browns and gold eyeshadow to make my blue eyes pop. So when glitter shadow came back into play, I was surprised. Yet, he thought of glitter brought me back to my days of Lizzie McGuire and pop star pants, so I figured why not give it a try. My first time I tried loose glitter and it went everywhere! I couldn't get it off my nose to save my life, it ruined the whole experience for me. After convincing from others to try it again but with pressed powder I gave in, this pallet was simple yet stunning! My favorite part is that this is $18.00 from Ulta and exactly what I needed.
Merry Christmas and happy shopping lovely!
-ML